The large wing with the 10 rooms that have their own shower and toilet were made in 2003. The rooms can be reserved as single or double. We can also arrange extra bedding. Furthermore, all 10 rooms have an amazing seaview, and clear looks towards the surrounding mountains.

The two extra large rooms are reserved for familie stays – but it is possible to reserve the rooms as singles or doubles, if the other rooms are unavailable.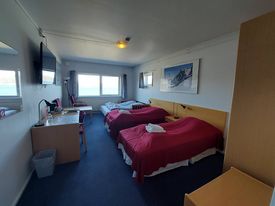 The wing with the shared shower and toilet has 7 single rooms and 3 doubles.



We also offer you:
For rooms without showers, you have shared facilities
Transportation can be arranged if needed